Honoring 2LT Justin Sisson 
ABOUT JUSTIN:
Second Lieutenant Justin Sisson, a member of the founding chapter of Students for America's Military (SAM) and FSU's Army ROTC, was killed in action in Tsamkani, Afghanistan on June 3, 2013, by a suicide bomber.
This humble hero put college on hold after his sophomore year at FSU, to deploy to Iraq with the Army National Guard. He earned a Bronze Star Medal for his honorable service in Iraq. Once back at Florida State University, he became the Cadet Battalion Commander of FSU's Army ROTC. He received the George C Marshall Award, was distinguished honor grad from IBOLC, distinguished honor grad from FSU's Army ROTC, and graduated from FSU in May 2012. He was a Soldier, Ranger, Sapper, Airborne, and Air Assault qualified. He was assigned to the 101st Airborne Division (Air Assault) 4th BCT, 1-506th IN, Ft. Campbell, KY, in January 2013. In April 2013, he deployed to Afghanistan in support of Operation Enduring Freedom.
2nd LT Sisson's awards include two Bronze Star Medals, Purple Heart, Army Achievement Medal, National Defense Service Medal, Global War on Terrorism Service Medal, Afghanistan Campaign Medal with Bronze Service Star, Army Service Ribbon, Overseas Service Ribbon, Armed Forces Reserve Medal with Device, NATO Medal, Combat Infantryman Badge, Parachutist Badge, Air Assault Badge, the Sapper Tab, and Ranger Tab.
The first annual 2LT Justin Sisson 5K will be held on February 22nd 2014, in honor of FSU graduate Justin Lee Sisson, who was killed in action in Afghanistan on June 3rd 2013. Proceeds from the race will benefit the scholarship award foundation set up in his name, which will be awarded to an exemplary FSU ROTC cadet each year. Please become a sponsor of this 5K race; in doing so you will be honoring a true local hero who gave the ultimate sacrifice at just 23 years of age.
• Your individual/business name with your level of sponsorship will be promoted on the website for the 5K.
• Whoever donates the most (monetarily) will have the biggest logo centered on the shirt, and also recognized at the 5K race.
Sponsorship Options:
2LT Sponsor: $50:  name of individual/business on t-shirt, and a Proud Sponsor poster
1LT Sponsor: $100:  the above, and advertisement at event (banner)
CPT Sponsor: $150:  the above, and announcement at the event + larger logo on shirt
MAJ Sponsor: $200 and up:  the above, and Students for America's Military and Army ROTC will advertise your business as a sponsor in a status on each of their Facebook pages.
SPONSOR / DONATE: 
 You can sponsor and/or donate online by clicking the button / URL link below:
URL: http://www.youcaring.com/other/2lt-justin-sisson-5k-race/110408
(OR:  If you'd rather write & mail a check (instead of donating online via the YouCaring link), please e-mail donations@studentsforamericasmilitary.com with "2LT Justin Sisson 5K" in the subject line of the e-mail.  Thanks!)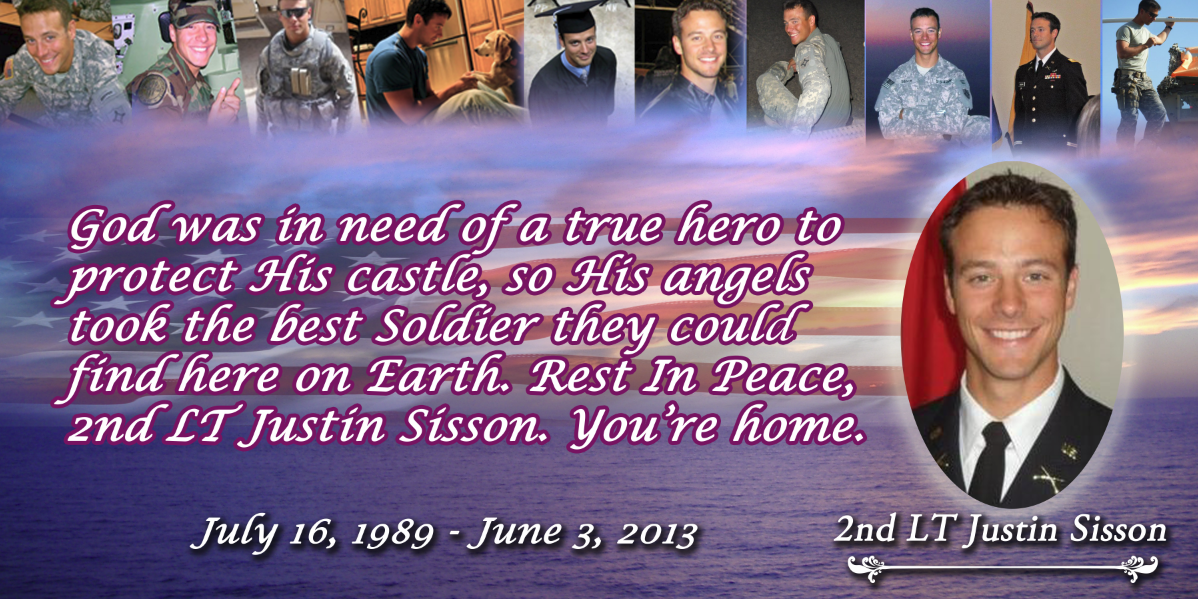 REGISTER TO RUN THE RACE: 
URL:  https://endurancecui.active.com/event-reg/select-race?e=5804954
~ ~ ~ ~ ~ ~ ~ ~ ~ ~ ~ ~ ~ ~ ~ ~ ~ ~ ~ ~ ~ ~ ~ ~ ~ ~ ~ ~ ~ ~ ~ ~ ~ ~ ~ ~ ~ ~ ~ ~ ~
Facebook Event:   https://www.facebook.com/events/427567524037847/
Note:  Clicking "going" on Facebook does *not* register you for the race.  You must register via  the red "Register to Run" button (https://endurancecui.active.com/event-reg/select-race?e=5804954) to actually register for the race.
~ ~ ~ ~ ~ ~ ~ ~ ~ ~ ~ ~ ~ ~ ~ ~ ~ ~ ~ ~ ~ ~ ~ ~ ~ ~ ~ ~ ~ ~ ~ ~ ~ ~ ~ ~ ~ ~ ~ ~ ~ ~
If you aren't able to make it to Tallahassee but you would still like a race t-shirt:
For friends/family who would like to support The 2LT Justin Sisson 5K but are not able to make it to Tallahassee, please choose to "Sponsor/Donate" instead of clicking "Register to Run."  For those who would like a t-shirt but will not be at the race, please donate (at least) $20 via the blue "Sponsor/Donate" button above, and please donate an additional $15 for each additional shirt you'd like to be mailed to the *same* shipping address.  After donating, e-mail signe.thomas@studentsforamericasmilitary.com with your name, size of t-shirt(s) [Small, Medium, Large, or Extra Large], and your shipping address.  Thanks so much!!!!
~ ~ ~ ~ ~ ~ ~ ~ ~ ~ ~ ~ ~ ~ ~ ~ ~ ~ ~ ~ ~ ~ ~ ~ ~ ~ ~ ~ ~ ~ ~ ~ ~ ~ ~ ~ ~ ~ ~ ~ ~ ~
Race-Day Information:
Day-of Registration: 8:00 – 8:50 a.m.    (If you choose to wait to register the day of the race, it is $25.   We highly encourage you to register early, online (via the blue "Register To Run" button above).  If you register online, the price is $20 with t-shirt; $15 without t-shirt.
Event Starts:  9:00 a.m.
Where:  Landis Green (on Florida State University's campus)
Date: Saturday, February 22nd 2014